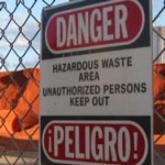 T&M Hazardous Waste Management, LLC is an owner-operated hazardous waste disposal and environmental compliancel firm. Located in the heart of the San Joaquin Valley, we have proudly served Central California since 1987. We have recently expanded our services into areas of Northern and Southern California and look forward to continuing to expand our areas of operations. T&M Hazardous Waste Management prides itself on offering our clients the most cost effective and technically sound methods for resolving all of their environmental concerns.

At T&M Hazardous Waste Management, we combine our extensive experience with unparalleled knowledge of applicable local, state and federal compliance regulations in order to provide our clients with solutions to address their hazardous waste mangement and environmental concerns. We have an extensive background in dealing with issues regarding mold and asbestos, pharmaceutical, hazardous and RCRA wastes.

We also work with our clients to ensure adequate training of their employees that deal with hazardous materials, proper waste handling and storage practices, and compliant hazardous communications programs. Another aspect T&M Hazardous Waste Management can assist you with is the preparation and submission of Hazardous Materials Business Plans and CERS Reporting.

T&M Hazardous Waste Management works with Health Care, Government, Educational, Residential, Commercial and Industrial Clients to develop resolutions that meet client objectives, reduce risk to both the company and the environment, and control costs simultaneously.



We would be pleased to hear from you. Please let us know what your needs and questions are, and we will be more than happy to be of service.


Home :: About Us :: Our Services :: Contact Us :: Other Resources